611 found for 'art'
person
Krzysztof Wodiczko
Krzysztof Wodiczko is an artist currently living in Boston and teaching at MIT.
tags:
art
picture

Calin Dan
picture

Art is not Terrorism
Campaign banner CAE Defense Fund
picture

Steve Kurtz
 Critical Art Ensemble in action...
picture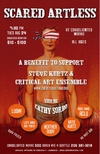 Scared Artless
A benefit for Steven Kurtz and Critical Art Ensemble
person
Tatiana Bazzichelli
Tatiana Bazzichelli (it/de) is a researcher, networker and curator, working in the field of hacktivism and net culture.
tags:
network cultures
, 
infopolitics
, 
info-activism
person
Konrad Becker
Konrad Becker is a pioneer in media art and electronic music. He is known for initiating seminal and controversial net-culture ...
tags:
tactical reality
person
Raul Marroquin
Raul Marroquin was born in Bogota, Colombia, in 1948 and has lived in the Netherlands since 1971. He has worked with film, vid...
person
Luchezar Boyadjiev
Luchezar Boyadjiev is a Bulgarian artist, working and living in Sofia, Bulgaria. As an Eastern European artist he often found ...
tags:
post-governmental organisation
person
Florian Schneider
Florian Schneider is a filmmaker, writer, and developer in the fields of new media, networking and open source technologies. I...
tags:
migration
, 
no border
, 
dictionary of war
, 
borders
person
Marko Peljhan
Born 1969 in Nova Gorica, Slovenia, Peljhan in 1992 graduated from the Academy for Theatre, Radio, Film and Television in Ljub...
tags:
Signal Intelligence
person
Andy Cameron
Co-author with Richard Barbrook of the infamous Californian Ideology essay (1995).
tags:
design
, 
interactive media
person
Paul Garrin
b 1957 in Philadelphia (USA); 1978?82 study of art at the Cooper Union of Art, New York (USA), under Hans Haacke, Vito Acconci ...
tags:
video activism
, 
camcorder revolution
person
Brian Holmes
Brian Holmes, is an art critic, theorist and activist, particularly involved with the mapping of contemporary capitalism.
person
Furtherfield
Furtherfield is an artist organisation founded by artists Ruth Catlow and Marc Garrett in 1997 and sustained by the work of it...
tags:
art
, 
participatory media
picture

Critical Art Ensemble @ De Balie
Critical Art Ensemble at the Balie Benefit for Steve Kurtz's lawsuit. February 9th, 2005
(photo by Katharina Birkenbach for Mediamatic)
person
Jordan Crandall
Jordan Crandall is an artist, theorist, and performer based in Los Angeles.  His video installations, presented in numerous ex...
tags:
art
, 
theory
, 
surveillance
person
Not An Alternative
Not An Alternative is a non-profit organization based in Brooklyn, New York, whose mission aims to integrate art, activism and t...
tags:
art
, 
activism
person
Nathalie Magnan
Nathalie Magnan is an artist and theoretician. She produced video essays for Paper Tiger TV, Deep Dish TV as well as for Canal+...
tags:
politics
, 
art
, 
community media
, 
grassroot journalism
, 
feminism
picture

ArtLeaks
"It is time to break the silence!"
http://art-leaks.org