778 found for 'interactive media'
person
Mrityunjay Chatterjee
Mrityunjay Chatterjee is a designer who conceptualizes and coordinates creative (digital and print) productions for both Sarai a...
article
We Make Radical Media You Make Adverts
Radical Media Conference becomes 'Rebellious"
 rebellious media conference
tags:
activism
, 
diy media
, 
independent media
, 
media criticism
person
Nina Czegledy
Moderator of Enduring Post Communism: Networks of Patronage- An independent media artist, curator and writer, Nina Czegledy ha...
person
Franco Berardi ('Bifo')
Franco Berardi Bifo is a contemporary writer, media-theorist and media-activist.
tags:
media theory
, 
precarity
, 
telestreet
, 
media criticism
picture

Clemens Apprich
picture

Citizen Media in Syria
Source:
http://ramialhames.wordpress.com/2012/10/31/citizen-media-in-syria/
picture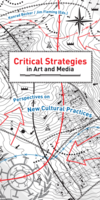 Critical Strategies in Art and Media
picture

INFOWARROOM: Autonomous Representation and Changing Media Tools
picture

Migrants / Media / Metropolis: Screening Underground Londoners
picture

Robert McChesney Takes on Media Globalization
file
Final declaration of the FC⚡MC
  fcmc_final_declaration.pdf, 55,8 KiB
person
Shuddhabrata Sengupta
Shuddhabrata Sengupta is an artist and member of the Raqs Media Collective, with training in sociology and filmmaking.
tags:
art
, 
diy media
picture

Raqs Media Collective
www.raqsmediacollective.net
picture

Michael Dieter
article
30 Years of Tactical Media
Felix Stalder
tags:
tactical media
, 
media theory
person
Ian Alan Paul
Ian Alan Paul is a transdisciplinary artist, theorist, and curator. His practice includes the production of experimental docume...
tags:
art
, 
tactical media
person
Brett Stalbaum
Brett Stalbaum is an artist and research theorist specializing in information theory, database, and software development. A ser...
person
Darko Fritz
Darko Fritz Fritz is artist and independent curator and researcher. He was born in 1966, in Croatia, and currently he lives an...
tags:
tactical media
, 
migration
, 
media criticism
article
Tactical Media as Virtuosic Performance
Introduction of "Tactical Media" by Rita raley (Un. of Minnesota Press,2009)
Rita Raley
tags:
art
, 
tactical media
, 
cartography
, 
activism
, 
net.activism
, 
info-activism
article
Electronic Markets & Activist Networks
The Weight of Social Logics in Digital Formations
Saskia Sassen
tags:
activism
, 
globalisation
, 
net.activism
, 
economics
, 
finance