63 found for 'net.activism'
picture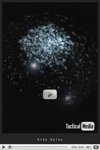 Rita Raley: Tactical Media (cover)
Electronic Mediations 28, University of Minnesota Press, 2009.
picture
A message from Anonymous to Wall street, New York, and the Protestors
(video still)
picture

NEURO--networking europe
http://neuro.kein.org/
file
Tactical Media, Rita Raley, 2009
  Raley-Tactical_Media-Introduction.pdf, 1272,6 KiB
The Introduction of Rita Raley's book "Tactical Media", part of the series Electronic Mediations, University of Minnesota Press, 2009.
video



Media Squares: Aalam Wassef, Omar Robert Hamilton & stateless plug-in
tags:
tactical media
, 
urban intervention
, 
net.activism
, 
middle east
, 
street protest
person
Donatella Della Ratta
Donatella Della Ratta is a PhD fellow at the Department of Cross-Cultural and Regional Studies, New Islamic Public Sphere Prog...
tags:
net.activism
person
Rodrigo Nunes
Rodrigo Nunes is a lecturer in modern and contemporary philosophy at the Catholic University of Rio de Janeiro (PUC-Rio), Braz...
tags:
network cultures
, 
activism
, 
net.activism
, 
post-governmental organisation
person
Aalam Wassef
Aalam Wassef, 38, is an Egyptian independent artist (installations, new media), blogger and internet activist.
He is bas...
tags:
art
, 
net.activism
, 
middle east
picture

Art, Resistance and Rebellion on the Net
CompArte  "Against Capital and its Walls, All the Arts"
http://comparte.digital
picture

Beautiful Trouble (cover)
A toolbox for revolution
http://beautifultrouble.org
picture

Unlike Us 3 - flyer
http://networkcultures.org/wpmu/unlikeus/3-amsterdam/
file
Next 5 minutes 4 reader
  n5m4_reader.pdf, 1684,1 KiB
The complete reader, including design, of the Next 5 Minutes 4 international festival of tactical media, Amsterdam, September 11 - 14, 2003.
person
 Xnet
Xnet – Internet Freedoms
Xnet
is an activist project working in ...
tags:
network cultures
, 
activism
, 
infopolitics
, 
net.activism
, 
info-activism
, 
free culture
picture

Organisation of the Organisationless (cover)
Collective Action After Networks
www.metamute.org/editorial/books/organisation-organisationless-collective-action-after-netw...



picture

Collage of remixed versions of the original posters.
Some are satirical, others are ironic.
For instance one reads "My was is your way but the tank is in the way" and another
"I am with the law, but where is it?"
Image courtesy of Ammar Alan
picture

make world festival 1
BORDER="Ø" LOCATION="YES"
munich, germany, october 18 - 21, 2001
www.makeworlds.org/1/index.html
article
Intro for Net. activism Forum
Carl Guderian
tags:
activism
, 
net.activism
picture

Basic how-to guide for preserving fundamental rights on the Internet
Guide to protecting open communications.
https://xnet-x.net/en/how-to-guide-for-preserving-fundamental-rights-internet/
video



Syria's cyber revolution
tags:
net.activism
, 
middle east
article
The XYZ of Net Activism
Luther Blissett
tags:
art
, 
activism