521 found for 'tactical education'
person
Bernardo Gutiérrez
Bernardo Gutiérrez (@bernardosampa) is a Spanish-Brazilian journalist and writer who researches networked movements, hacker cult...
tags:
public space
, 
public domain
, 
occupy
, 
tactical research
person
Abdrew Gavin Marshall
Andrew Gavin Marshall is a 26-year old researcher and writer based in Montreal, Canada.
tags:
occupy
, 
tactical research
person
Michael Dieter
Michael Dieter is a PhD candidate at University of Melbourne, currently completing a doctoral thesis on the relations between ...
tags:
tactical media
, 
media theory
person
Institute for Applied Autonomy
The Institute for Applied Autonomy (IAA) was founded in 1998 as a technological research and development organiz...
tags:
art
, 
contestational robotics
, 
tactical gizmology
picture

Telestreet: The Italian Media Jacking Movement
picture

Midia Tatica Brasil
The Brazillian Context
picture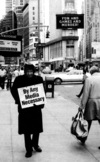 By any media necessary
Image from: Critical Art Ensemble, Digital Resistance: Explorations in Tactical Media, 2001.
www.critical-art.net/books/digital
picture

Next 5 Minutes 4 Leader
picture

David Garcia
@ Cool Media Hot Talk Show (November 2007)
article
Is It O.K. to Be a Luddite?
Thomas Pynchon
article
Introduction to the N5M Zapbook
Working Papers for the Next 5 Minutes project on Tactical Television, October 1992
Bas Raijmakers
event
New Ad Campaign Explains Drones to Skeptical American Public
November 6, 2013 ? San Francisco, California
tags:
war
, 
public space
, 
culture jamming
, 
billboard improvement
, 
drone
campaign
Rolling Jubilee
A bailout of the people by the people
tags:
occupy
, 
economics
, 
finance
, 
debt
article
We Demand The Impossible:
An Interview with John Jordan and Gavin Grindon
 Furtherfield
tags:
art
, 
participatory media
, 
austerity
video



The Radio B92 Story
tags:
b92
, 
Belgrade
video



Tactical Frivolity
video



N5M3 TV: Images and Words of Hate
tags:
next 5 minutes
, 
b92
video



N5M3 TV: Art of Campaigning
tags:
next 5 minutes
, 
art of campaigning
picture

Gezi Radyo
News at 12:30 and 19:30 everyday ?stanbul time, in Turkish and English
http://geziradyo.org/
picture

Transborder Immigrant Tool
Transborder Immigrant Tool project website