196 found for 'criticism'
picture

Oleg Kireev @ Imagine IC, Amsterdam 2002
In the frame of the urban intervention project
Debates & Credits
(Fall 2002).
file
Antiscoial Media
  AntisocialMedia_IanAlanPaul_2017.pdf, 6,6 MiB
"Antisocial Media" is a remix/cut-up/utopian-plagiarism of Guy Debord's 1967 "The Society of the Spectacle" that reflects on the role of the network and (anti)social media in political, economic, and everyday life.
Ian Allen Paul, 2017.
file
Uncommon Grounds Introduction - Anthoney Downey
  uncommon-grounds_downey_intro_essay_pdf.pdf, 843,5 KiB
Introduction to
Uncommon Grounds
and the essay 'For the Common Good? Artistic Practices and Civil Society in Tunisia' by editor Anthony Downey.
file
Next 5 minutes 4 reader
  n5m4_reader.pdf, 1684,1 KiB
The complete reader, including design, of the Next 5 Minutes 4 international festival of tactical media, Amsterdam, September 11 - 14, 2003.
article
How to make a point
Supermarket Clubcard as Political Organiser
Rachel Baker
article
Erik Hobijn over techno-parasieten
Een interview fragment - door Geert Lovink
article
Pit Stop Manifesto
Pit Schultz
tags:
tactical media
, 
net criticism
, 
media criticism
person
Zeynep Tufekci
Zeynep Tufekci is  a fellow at the Center for Information Technology Policy at Princeton University (and a "visiting assi...
tags:
diy media
, 
infopolitics
, 
media theory
, 
info-activism
, 
media criticism
picture

make world festival 1
BORDER="Ø" LOCATION="YES"
munich, germany, october 18 - 21, 2001
www.makeworlds.org/1/index.html
collection
The Concept of Tactical Media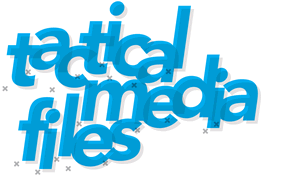 Error 500 - class javax.servlet.ServletException
javax.servlet.ServletException: javax.servlet.jsp.JspException: javax.servlet.jsp.JspException: java.lang.IllegalArgumentException: You cannot use non-existing field 'subtitle' of node '41572' existing fields of 'collection' are [_exists, _number, body, author, title, security_context, _resolved, created, owner, number, otype, intro]
Show error
---
Please contact your system administrator about this.