14 found for 'cultural memory' in pictures
picture

Predictions of Fire
picture

Morehshin/Allahyari, Material-Speculation-ISIS, (2015-2016)
www.morehshin.com/material-speculation-isis
picture

Material Speculation
Morehshin Allahyari (IR / US) (1)
Material Speculation: ISIS, 2015 - 2016
Installation with 3D objects and downloadable content; workshops and residency
picture

Deep Europe Logo
www.medialounge.net/lounge/workspace/deep_europe/index.html
picture

CULTURAL QUARTER
picture

To the Arts, Citizens!
'To the Arts, Citizens!' focuses on some of the intersections between art and politics as manifested in our time by looking into issues such as activism, citizenship, memory, immigration, ideology, revolution, utopia, iconoclasm, democracy, catastrophe,...
picture

Rehearsal of Memory
by
Mongrel
picture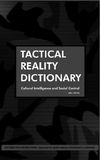 Tactical Reality Dictionary (cover)
Tactical Reality Dictionary - Cultural Intelligence and Social Control
picture

Open Strike in the Cultural Sector in Lebanon
https://stories.arabimagefoundation.org/issue-201904#
picture

Mark Dery
 Mark Dery is a cultural critic. He writes about media, the visual landscape, fringe trends, and unpopular culture.
picture

Iona Sharp Casas
Iona Sharp Casas is a Catalan/English independent writer, researcher and cultural analyst based in Amsterdam, The Netherlands.
picture

About Mosireen (still)
Mosireen is a non-profit media collective born out of the explosion of citizen journalism and cultural activism in Egypt during the revolution.
www.mosireen.org
picture

Oranges and Lemons
THE FILM: ?Oranges and Lemons?
INDIA / 2002 / 3 MIN 30 SEC
Camera: Shanker Raman
Editing: Jabeen Merchant
Sound design: Resul Pookutty
Executive Producer: Madhusree Dutta
Production: Kishore Sawant
Directed by: Fai...
picture

Tactical Media Futures
A conversation between the Electronic Disturbance Theater & Ian Alan Paul
Khalil Sakakini Cultural Center
مركز خليل السكاكيني الثقافي
Wednesday, March 22nd, 6:30pm
Khalil Sakakini Str. Al Masyoon, Ramallah, Palestine
Wedn...