Person
Jordan Crandall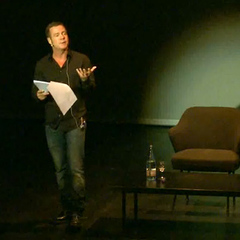 Jordan Crandall is an artist, theorist, and performer based in Los Angeles.  His video installations, presented in numerous exhibitions worldwide, combine formats and genres deriving from cinematic and military culture, exploring new regimes of power and their effects on subjectivity, sociality, embodiment, and desire. Crandall writes and lectures regularly at various institutions across the US and Europe.  He is the 2011 winner of the Vilém Flusser Theory Award for outstanding theory and research-based digital arts practice, given by the Transmediale in Berlin in collaboration with the Vilém Flusser Archive of the University of Arts, Berlin.  He is currently (2012) an Honorary Resident at Eyebeam art and technology center in New York, where he is continuing the development of a new body of work that blends performance art, political theater, philosophical speculation, and intimate reverie.  The work, entitled UNMANNED, explores new ontologies of distributed systems  -- a performative event-philosophy in the form of a book and a theatrical production.  He is also the founding editor of the new journal VERSION.
He has given keynote lectures at several major conferences including "Cosmobilities" at the Academy of Fine Arts Munich; "Architectures of Fear" at the Barcelona Center for Contemporary Culture; and "Sorting Daemons" at Queens University, Ontario.  Other lectures include "Goodbye Privacy" at Ars Electronica, Linz, Austria; the ESRC/Surveillance Studies Network Seminar Series at the Department of Geography, University of Durham, UK; the conference "Everyday Militarism: New Zones of Empire" at UC Berkeley; the Cultural Studies Colloquium Series at UC Davis; and the conference "Architecture in Mind -- Trans-Thinking the City" at the Delft School of Design, Netherlands.  He has have been awarded several research fellowships:  most recently, a fellowship and residency at Newcastle University, School of Architecture, Planning and Landscape (Global Urban Research Unit/Culture Lab), Faculty of Humanities and Social Sciences; and a National Endowment for the Humanities (NEH) Fellowship at the NEH/Vectors Summer Institute on Multimodal Scholarship the Institute for Multimedia Literacy, USC.  He is a researcher in residence at the California Institute for Telecommunications and Information Technology (CALIT2).
 
An anthology of Crandall's projects and critical writing, Drive: Technology, Mobility, and Desire, is available from Hatje Cantz Verlag.  His writing has appeared in such books as Architectures of Fear (Barcelona Center of Contemporary Culture); Synthetic Times: Media Art China (The MIT Press);  Worterbuch des Krieges/Dictionary of War (Merve Verlag Berlin); and The Aesthetics of Risk (JRP Ringier) -- as well as in journals including Estudio Visuales; CTheory; Atlantica; Art Journal; Journal of Visual Culture, and Theory, Culture, and Society.  His ongoing art and research project Under Fire, concerning the organization and representation of war, has resulted in two catalogues published by the Witte de With center for contemporary art, Rotterdam, and an online archive developed for the International Biennial of Contemporary Art in Seville.  Crandall's other books include Trigger Projekt (Frankfurt: Revolver, 2002); Heatseeking (Caen: Esac, 2002); Suspension (Kassel: Documenta X, 1997); and Interaction: Artistic Practice in the Network (New York: D.A.P., 2001). 
 
Crandall's earlier works include the site-specific video installation Suspension (1997) commissioned by Documenta X in Kassel; a seven-part video installation entitled Drive (1998-99), commissioned by the Neue Galerie am Landesmuseum Joanneum and the Zentrum für Kunst und Medientechnologie (ZKM) in Karlshrue; a six-part video installation entitled Heatseeking (2000), commissioned by inSITE in San Diego and Tijuana; and Trigger (2002), a two-channel video installation which debuted in October 2002 at Henry Urbach Architecture, New York, supported by the New York State Department of Cultural Affairs and ARTSPACE, San Francisco and New York. 
 
Solo exhibitions include the Museum of Contemporary Art Kiasma in Helsinki; the Neue Galerie am Landesmuseum Joanneum in Graz; ARTLAB in Tokyo; the Museo de Arte Carillo Gil in Mexico City; the Centre d'Art Contemporain de Basse-Normandie in Caen; the Kunst-Werke in Berlin; the Kitchen in New York; AGORA in Rio de Janeiro; the Edith Russ Site für Medienkunst in Oldenburg; and the TENT Centrum Beeldende Kunst in Rotterdam.  His work has also been presented in group exhibitions at major institutions such as the Whitney Museum in New York, the Tate Modern, and the San Francisco Museum of Modern Art.
 
Crandall's videos have been presented at many international film and media festivals including the World Wide Video Festival in Amsterdam; the Transmediale International Media Art Festival Berlin; the Montreal International Festival of New Cinema and New Media; the Video Archeology Festival in Sofia, Bulgaria; the MIX Festival in New York City; the Berlin Biennial; the European Media Art Festival in Osnabruck, Germany; "Cine y Casi Cine" at the Museo Nacional Centro de Arte Reina Sofia in Madrid; the Kasseler Dokumentarfilm und Videofest; and the Rotterdam International Film Festival.