777 found for 'diy media'
person
Raqs Media Collective
The Raqs Media Collective enjoys playing a plurality of roles, often appearing as artists, occasionally as curators, sometimes...
tags:
art
, 
public space
, 
public domain
, 
digital commons
person
Tatiana Bazzichelli
Tatiana Bazzichelli (it/de) is a researcher, networker and curator, working in the field of hacktivism and net culture.
tags:
network cultures
, 
infopolitics
, 
info-activism
person
AKA the Castle
MOVING FOREST LONDON 2012 is presented by AKA the Castle:
person
Shu Lea Cheang
Shu Lea Cheang (born in Taiwan) is a multi-media artist, working within the fields of net-based installation, social interface...
tags:
art
person
Florian Schneider
Florian Schneider is a filmmaker, writer, and developer in the fields of new media, networking and open source technologies. I...
tags:
migration
, 
no border
, 
dictionary of war
, 
borders
person
Geert Lovink
Geert Lovink is a media theorist, net critic and activist.
article
"V for Vendetta": The Other Face of Egypt's Youth Movement
"Beneath this mask there is more than flesh. Beneath this mask there is an idea [?] and ideas are bulletproof."
Linda Herrera
tags:
middle east
, 
anonymous
person
Bruce Sterling
Bruce Sterling  is an American science fiction author, speaker, futurist and design instructor.
tags:
environment
, 
art
person
Tetsuo Kogawa
Tetsuo Kogawa's interests range over a variety of disciplines and critical approaches.
picture

Eric Kluitenberg
Media theorist, writer and editor in chief of the Tactical Media Files
person
Nadia Plesner
Nadia Plesner (born 1981) is a Danish artist working and living in the Netherlands.
tags:
art
, 
campaign
, 
darfurnica
person
Josephine Bosma
Josephine Bosma lives and works in Amsterdam. From an art background, she is a journalist and author in the fields of art, new...
person
Ryan Griffis
Ryan Griffis makes work in the form of visual art, text, curated exhibits, and performance that usually focuses on relationships...
person
Pit Schultz
Media artist, lives and works in Berlin. Co-founder of
- a moderated mailing list for net criticism, collaborative te...



person
Mrityunjay Chatterjee
Mrityunjay Chatterjee is a designer who conceptualizes and coordinates creative (digital and print) productions for both Sarai a...



article
Media, Activism and Society of the Spectacle
Michael Richmond, Jack Dean
tags:  activism,  diy media,  spectacle,  media criticism



person
Nina Czegledy
Moderator of Enduring Post Communism: Networks of Patronage- An independent media artist, curator and writer, Nina Czegledy ha...



person
Franco Berardi ('Bifo')
Franco Berardi Bifo is a contemporary writer, media-theorist and media-activist.


tags:  media theory,  precarity,  telestreet,  media criticism



picture

Clemens Apprich
picture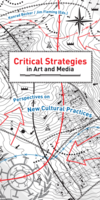 Critical Strategies in Art and Media