592 found for 'free culture'
picture

Misopolis - Coming Soon
Misopolis campaign image
www.dieselforwomen.com
picture

Misopolis - Happy Communion in Misopolis
Misopolis campaign image
www.dieselforwomen.com
picture

Misopolis - Immaculate Contraception
Misopolis campaign image
www.dieselforwomen.com
picture

Welcome to your Bank of America
www.yourbofa.com
picture

#OCCUPYXMAS Buy Nothing Day 2011
adbusters.org/bnd
picture

#OCCUPYXMAS Buy Nothing Day 2011
adbusters.org/bnd
picture

#OCCUPYXMAS Buy Nothing Day 2011
adbusters.org/bnd
picture

#OCCUPYXMAS Buy Nothing Day 2011
adbusters.org/bnd
picture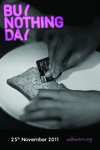 #OCCUPYXMAS Buy Nothing Day 2011
adbusters.org/bnd
picture

#OCCUPYXMAS Buy Nothing Day 2011
adbusters.org/bnd
picture

Steal something
Not a message from the Media Foundation, a.k.a. "This is not an adbusters spoof ad".
picture

In your eyes
A message from the Media Foundation
www.adbusters.org
picture

BLF
www.billboardliberation.com
file
BYE-BYE - A Guide to Bringing Him Down
  unpresidented-action-guide.pdf, 578,2 KiB
Action guide released with the Unpresidented special editipon of the Qashington Post, May 1, 2019.
file
Boston Globe: Deportations To Begin (April 9 2017)
  Ideas-Trump-front-page.pdf, 7,1 MiB
Spoof frontpage of the Boston Globe on April 9, 2016, looking one year into a possible futute.
event
Shocking and Awful: A Grassroots Response to War and Occupation
Free Speech TV Presents The Historic Deep Dish Series:
tags:
tactical media
, 
war
, 
grassroot journalism
, 
activism
, 
independent media
, 
middle east
event
Dow 'Run for Water' - 'Run for your Life!' protest
tags:
The Yesmen
, 
identity correction
, 
Dow Bhopal Legacy
article
To Shoot an Elephant
A documentary by Alberto Arce and Mohammad Rujailah. (synopsis)
tags:
Gaza
, 
Palestine
article
No One is Illegal - Principles
by the Vancouver No One is Illegal-Vancouver
tags:
activism
, 
migration
event
WE ARE HERE evicted once again - Amsterdam refugee scandal continues...
tags:
campaign
, 
migration
, 
refugees