778 found for 'interactive media'
picture

David Garcia
@ Cool Media Hot Talk Show (November 2007)
file
Tweets and Steets Introduction
  Tweets__the_Streets_Introduction.pdf, 1283,8 KiB
By Paolo Gerbaudo (Pluto Press, 2012)
file
Crisis/Media Reader Introduction
  Sarai Reader 04 Crisis Media intro.pdf, 106,1 KiB
Sarai Reader 04, february 2004 Delhi / Amsterdam.
file
Sarai Reader 04: Crisis / Media
  001intro.pdf, 106,1 KiB
Introduction and table of contents.
( www.sarai.net/publications/readers/04-crisis-media )
picture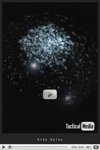 Rita Raley: Tactical Media (cover)
Electronic Mediations 28, University of Minnesota Press, 2009.
picture

Crisis/Media Sarai Reader 04 (cover)
Cover & Design: Renu Iyer @ Sarai Media Lab
person
Robert M Ochshorn
Nomadic artist, programmer, and musician. Split background including passionate forays into media and journalism, electrical and...
tags:
art
, 
archive
, 
design
, 
critical engineering
person
Ned Rossiter
Ned Rossiter is is a media theorist who researches on the political dimensions of labour and life in informational economies. ...
tags:
network cultures
, 
infopolitics
, 
post-governmental organisation
, 
info-activism
person
Gordan Savicic
Artist | Critical Engineer
tags:
art
, 
critical engineering
person
Konrad Becker
Konrad Becker is a pioneer in media art and electronic music. He is known for initiating seminal and controversial net-culture ...
tags:
tactical reality
person
Brandon Jourdan
Brandon Jourdan is an award-winning independent filmmaker, journalist, and writer. His film, the July War, is based on the 2006 ...
tags:
activism
, 
video activism
person
The Shadow
The SHADOW is New York's only underground newspaper, publishing on the Lower East Side of Manhattan since 1989, as a result of ...
person
Graham Harwood
Graham Harwood is the artistic director of the UK artist group Mongrel.
person
Arthur Kroker
Arthur Kroker
is media- en cultuurwetenschapper aan de University of Victoria in Canada. Hij houdt zich bezig met techn...
picture

Rebellious Media Conference
www.radicalmediaconference.org
person
Sarai - The new media initiative, Delhi
Sarai is a programme of the Centre for the Study of Developing Societies, (CSDS) one of India?s leading research institutes wit...
person
Meg McLagan
Meg McLagan is an Assistant Professor of Anthropology at New York University where she teaches in the Program in Culture and M...
article
Remaking Media Practices - From Tactical Media to Post-Media
Clemens Apprich
tags:
tactical media
, 
diy media
, 
infopolitics
, 
media theory
, 
media criticism
article
Antisocial Media
Ian Alan Paul
tags:
media
, 
media theory
, 
Debord
, 
spectacle
, 
media criticism
event
How much of this is fiction. @ FACT, Liverpool
Exhibition @ FACT (Foundation for Art and Creative Technology), Liverpool, 2 March 2017 - 21 May 2017
tags:
politics
, 
art
, 
tactical media
, 
infopolitics
, 
culture jamming
, 
meme wars
, 
tactical research